Company Profile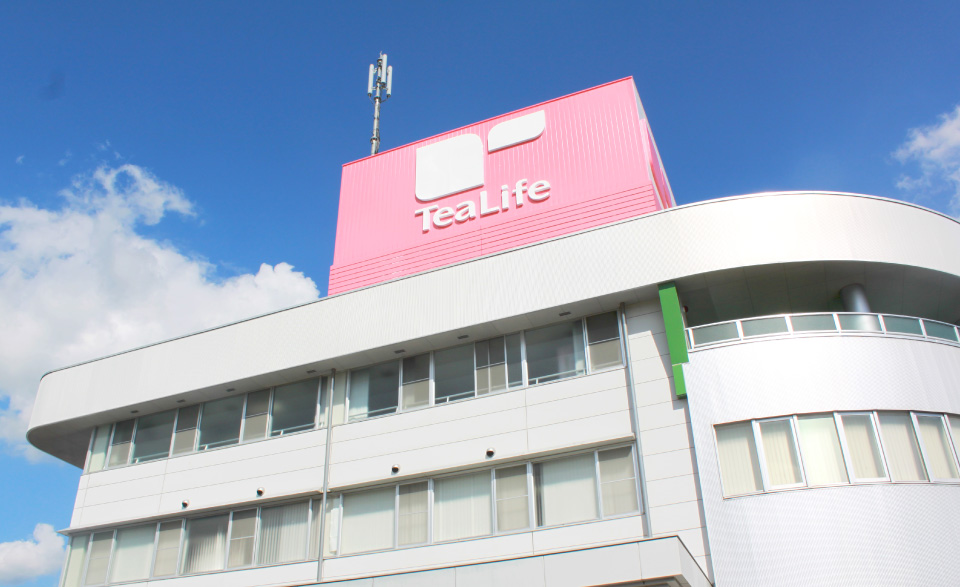 Tea Life Co., Ltd. was founded in August 1983 in Kanayacho, Haibara-gun, Shizuoka Prefecture (currently Shimada-shi). Currently, our main business is to provide total health support to help people spend their 100-year life healthy. Our goal is to provide "wellness and life support" through e-commerce shopping and various related businesses.

In health foods, cosmetics, and pharmaceuticals, we have strengths in well-thought products and personal marketing in a niche market that utilizes our strengths centered on in-house planned products. In addition to our own website, we also open stores on Rakuten, Amazon, Yahoo and other shopping sites. Overseas, we have opened stores in various e-commerce sites, mainly in China.

In our logistics business, our two distribution centers, located in the center of Japan, are ideally located to expand the area available for next-day delivery, and together with our own logistics, we provide shipping agency services for other companies (3PL business). The quality required for mail order logistics is high, and we use our own know-how and digital technology.

Apex Co., Ltd., a subsidiary of the Group, is a wholesaler of originally designed bedding, food products, cosmetics and other items to TV shopping companies and mail-order companies. Lifeit, Inc. operates eight types of EC stores that provide baby items, gardening products, daily necessities and other items to meet the needs of various life stages. Daikai Co., Ltd. mainly manufactures and imports miscellaneous goods and small items of natural materials planned in-house, and conducts wholesale and e-commerce.




Company creed, Company motto, Management philosophy
Company creed
The pleasure of satisfying our customers


Company motto
We always think "customer first" and grow together with the right ethical standards.


Management philosophy
Do not lie, be humbly and cheerfully fulfill our social responsibilities
Continue to innovate the mail order industry and provide better quality products and services to our customers
Create an "evolving organization" that can​ respond to any kind of change in the economic environment
Company Profile
Company name
Tea Life Co., Ltd.
website URL
https://www.tealife.co.jp/
https://www.tealifeir.com/
Establishment
August 1983
Head office location
118 Ushio, Shimada City, Shizuoka Prefecture

Capital
356,625 thousand yen
Representative
Chairman Nobuji Ueda
CEO Setsuya Nishigami
amount of sales
Consolidated 11,719 million yen (fiscal year ending July 202)
number of employees
155 people (as of July 31, 2021)
Business description
Mail order sales of health tea, health food, cosmetics, etc.
Bank
Shizuoka Bank, Mitsubishi UFJ Bank, Mizuho Bank
Authentication
Privacy Mark (certified in April 2007)
Acquired the next-generation certification mark "Kurumin" (acquired in October 2017)
Company Profile
Company Information (PDF 3MB)
Office
head office
118 Ushio, Shimada City, Shizuoka Prefecture
Tel.0547-46-3459 Fax.0547-45-5855
Fukuroi logistic center
Nishinoya,Washizu, Fukuroi City, Shizuoka Prefecture
Tel.0538-43-1400 Fax.0538-43-1401
Kakegawa logistic center
18-1 Tanyou, Kakegawa City, Shizuoka Prefecture
Tel.0538-43-1400 Fax.0538-43-1401

Nagoya logistic center
80 Shimojono, Oaza Nakashidami, Moriyama-Ku, Nagoya City, Aichi Prefecture
Tel.0538-43-1400 Fax.0538-43-1401

Disclaimer
When using IR information
The IR information posted on this website is intended to provide financial information, management indicators, etc. of Tea Life Co., Ltd. (hereinafter referred to as "the Company"), but does not make any representation or guarantee about the content.
The posting of information on this website is not intended to solicit investment. When actually making an investment, please refrain from making investment decisions based entirely on the information on this website, and we ask that you make your own investment decisions on your own.

About posted information
Although the Company pays close attention to the information posted on this website, if there is an error in the posted information, falsification of data by a third party, failure caused by data download, etc. Shall not be held liable for any reason.

Future prospects
Some of the information on this website contains forward-looking statements. Such statements are not a guarantee of future performance, but involve risks and uncertainties. Please note that future results may differ from actual results due to changes in the environment.

About the operation of this website
The operation of this website may be interrupted, canceled or changed without notice.
Also, you may not be able to use this website properly due to the communication environment, the condition of your computer, or other reasons. Please note that we are not responsible for any trouble, loss or damage caused by these.